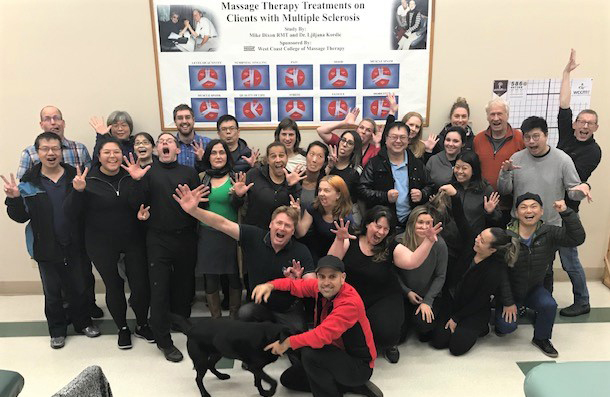 About Us
Arthrokinetics by Mike Dixon, RMT is all about movement. Learning how to move the joints in specific methods that help the patient gain better mobility and natural performance from a well adjusted body.
Through joint mobilization, arthrokinetic therapy is useful when addressing chronic pain conditions such as lower back pain as well as helping to improve sport performance. In the book series by Mike Dixon RMT, Joint Play the Right Way for the Axial Skeleton and Joint Play the Right Way for the Peripheral Skeleton, readers can learn the correct methods to employ when conducting massage therapy.
Through these easy to follow Massage Therapy Textbooks with descriptive photographs a massage therapist can learn the correct placement of hands and how to mobilize specific joints to gain the techniques that will allow your massage therapy practice to thrive.
Look no further! Arthrokinetic.com is the source for the best massage therapy or manual therapies available today. Please review our website and buy your copies of the Massage Therapy Textbooks and book your training Massage Therapy Courses online today.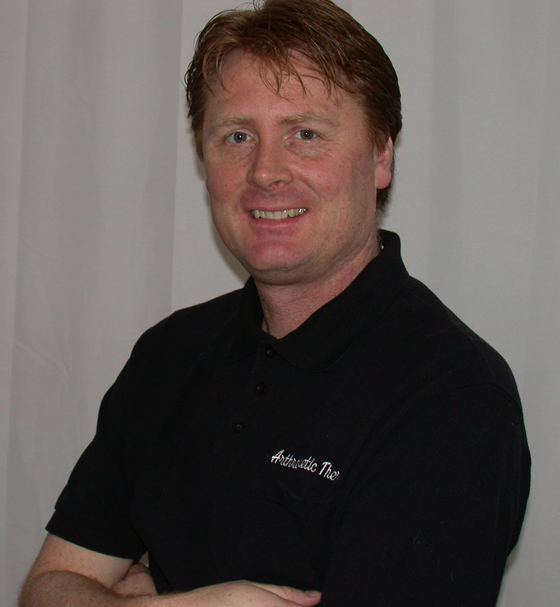 MIKE DIXON
RMT AND AUTHOR
Mike is a 33 year veteran of Massage Therapy. He is an educator, a published author, and an international presenter in massage therapy continuing education (Arthrokinetic Therapy). He was the senior practical advisor for the West Coast College of Massage Therapy. (WCCMT)
Mike is a graduate of the West Coast College of Massage Therapy in 1986.
He has been teaching at WCCMT since 1993 and has taught most courses in the practical
department. His specialty is in orthopedics assessment and treatments.
Mike has trained over 2000 massage therapists and naturopathic doctors.
He has developed specialty courses in continuing education for massage therapists and naturopaths
in the field of orthopedics and rehabilitation therapy called "Arthrokinetic Therapy".
His latest achievement is the release of his new textbook "Joint Play the Right Way for the Axial
Skeleton" 2006, which involves a multidimensional approach to treating the spine and Pelvis.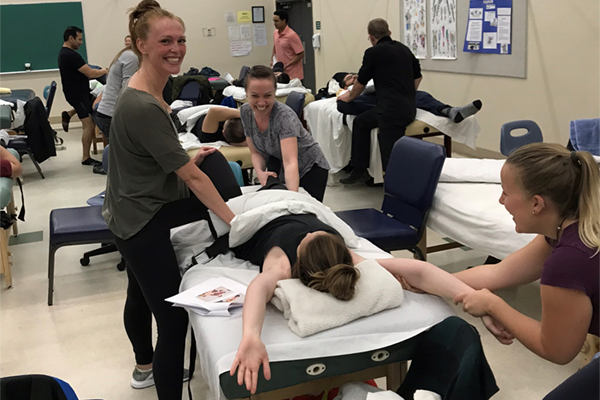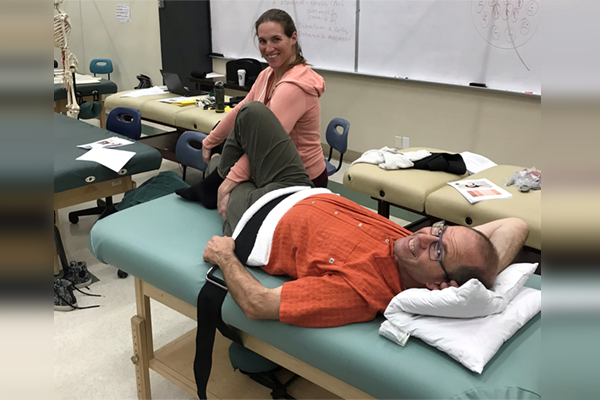 MASSAGE THERAPY COURSES
MASSAGE THERAPY COURSES IN BC, ALBERTA CANADA… ATTEND TRAINING MASSAGE THERAPY COURSES IN YOUR CITY THAT WILL SHOW YOU FIRST HAND THE TECHNIQUES INVOLVED IN THE BOOKS WRITTEN BY MIKE DIXON, RMT. INSTRUCTION IN VARIOUS ARTHROKINETIC THERAPY SOLUTIONS.
Massage Therapy Courses offered in Alberta, British Columbia Canada. Our course selection varies according to availability so please check back often as the selection and course times will vary. Early booking discounts are available.
See courses currently offered for 2023
What our clients Say
"I highly recommend Mike's courses to any practitioner who wants to take their practice to the next level. The course content is a game-changer for any practice and Mike's teaching style keeps you motivated and interested for the duration of the course. The course theory and techniques are very accessible and allow you to apply them quickly and effectively to your practice. This is overall the best and most useful course I have ever taken in my 26 years of practice! " Owner/Director Change Your Pain Kamloops
Melissa
Melissa West, BPE, RMT
I have taken a few Arthrokinetic Therapy courses and I would highly recommend them. Mike has carefully constructed interesting, engaging, and quickly applicable course material. These courses combine a focused review with learning NEW and fun techniques! The relaxed instruction allows you to feel comfortable, ask questions and then apply them to your practice.
"Thanks again Mike for the great course, I definitely learned a few things that I'm going to incorporate into my practice."
I just wanted to say thank you. The refresher on some things and all the new stuff I learned will absolutely help me get somewhere new in my career. Thanks again. Hopefully, I will see you at another course!!
Highly recommend it for anyone pursuing a career in Massage Therapy.
–  DR.BRANKO TURIC, ORTHOPAEDIC SURGEON
It looks awesome and great text descriptions," "Brief and to the point. I like it and would buy it. "This book is descriptive, concise and practical. I Manual Therapy.
–  JOANNA LINARDIS, REGISTERED MASSAGE THERAPIST
I personally will be getting a lot of use out of my copy as I strive to integrate all that I was trained in.
– JOANNE HUM, REGISTERED MASSAGE THERAPIST
I was in a major ski accident in February 2019, where I ended up breaking nine bones including my femur and my humerus. As an RMT, I went away for a long weekend away and ended up off of work for four months without any financial coverage for the lost income during this period. I needed to recover and get back to work as quickly as possible and therefore, Mike was the first person I called to help get me back to work. Needless to say, I had some pretty serious mobility issues following the accident. Once the fracture in my arm had healed I had a frozen shoulder and following hip surgery, spent two months in a wheelchair. I experienced the effectiveness of end-range loading firsthand. I was amazed after each treatment that I received from Mike; I had significant gains in range of motion and was able to fully recover from the frozen shoulder. Mike was able to get me back to work in four months, which I believe would have been significantly longer having I not received such productive rehab. After experiencing these techniques, I decided to start taking Mike's courses and passing this work on to my patients and colleagues. I have had the opportunity to work closely with Mike ever since. To be in Mike's orbit, you can feel the passion that he has for his work and you will be a better therapist just by absorbing a fraction of the information he has to share.
Massage therapists have certain treatment options at their disposal. Certainly, Western-based 'Swedish' massage strokes are at the center of these options. But other options that can increase the effectiveness of their treatment are also available. One of these treatment options is joint play. However, joint play is greatly underutilized. This is unfortunate because it is a powerful adjunctive technique that can be such an effective addition to our clients' treatment plans.
Of Massage Therapy Course, anything that has the power to do good also has the power to do harm, if not performed and applied correctly. This is why Mike Dixon's book Joint Play the Right Way: Axial Skeleton is so valuable. In this book, Mike covers the topic of joint play of the axial skeleton in an organized manner that is simple, yet thorough. Each page addresses a specific mobilization that is demonstrated with a clear photo and described completely, along with 'helpful suggestions' for the most effective utilization by the therapist. In addition, the kinesiology of each region is given, the common pathologies of the region are addressed, and indications and contraindication are discussed so that the therapist has a true understanding of the safe and effective application of the technique. Rounding this out, Mike has included Muscle Energy Technique (MET), stretching, and remedial exercises to create a multidimensional treatment approach for the therapist.
Mike has utilized his many years in private practice as well as his many years of teaching experience to craft this book, Joint Play the Right Way: Axial Skeleton, as well as his first book, the companionJoint Play the Right Way: For the Peripheral Skeleton, to serve as in-class manuals or as reference Massage Therapy Textbooks. So, whether you are a student learning joint play for the first time, an instructor who needs the perfect manuals to use in the classroom to help your students accurately learn and master joint play, or a practicing massage therapist who needs an excellent refresher reference text that is quick and easy to use, I strongly recommend these books to you. Both of them are invaluable books that will not sit on your bookshelf but will be used every day in your study and practice.
Joint Play the Right Way For The Axial Skeleton is an easy to read, easy to follow, and very thorough comprehensive book for anyone who is interested in learning ways to better understand and apply corrective techniques for the axial skeleton. The pictures and instructions on how to apply corrective modalities have been very beneficial for me because of how straightforward and obvious they have been instructed. I will definitely be keeping this book readily available in my own practice as a quick and easy-to-follow reference.
–  EMILY JOHNSON, STUDENT, RMT
WCCMT, BC, CANADA 
What a fantastic resource for any therapist! The accompanying illustrations and conceptual format make the utilization and application of the techniques simple and effective.
– JOHN DANG
DC, BC CANADA
In this book, Mike covers the topic of joint play of the axial skeleton in an organized manner that is simple, yet thorough. Each page addresses a SPECIFIC MOBILIZATION that is demonstrated with a CLEAR PHOTO AND DESCRIBED COMPLETELY, along with helpful suggestions.
– JOESEPH E. MUSCOLINO
DC, CT USA